From local events like the Big Sleep-Out, to our charity shops and Bike Workshops, to our Outreach Teams engaging with rough sleepers across the South West, volunteers can be found supporting our work everywhere we operate. Our volunteers do incredible work that helps us deliver the best possible service for people experiencing social exclusion.
Whether you're looking to learn new skills, keep busy, give something back or share your knowledge and abilities we are immensely grateful for every offer of volunteering. It's not just about donating your time. It's about getting involved and showing your support to vulnerable or at-risk people, and it's about going the extra mile to give them our best rather than making do.
We have lots of opportunities to get involved and are always interested to hear of new offers and ideas. If you don't see a role for you, use our enquiry form below to let us know what about your interests, skills and availability, and we'll be in touch when we have opportunities that might be right for you!
Day Centre Volunteer
Our new Bath Day Centre supports people experiencing rough sleeping by providing a safe place to come for warmth or shade, a cooked meal, positive company and a chance to engage with services in a neutral environment. The service will run on Monday's and Tuesday's initially, and we are working to extend opening across the week, from different locations each day. Volunteers will be a positive presence at the day centre, welcoming our clients, chatting with them and managing the refreshments stand at the venue.
Monday and Tuesday 10-1pm
We would also like to hear from anyone who has availability between 10am-1pm any day Monday to Friday.
Volunteer in the kitchen at our Manvers Street Hostel
Our Manvers Street Hostel provides a safe place for up to 20 residents to stay for sustained periods. Our team would support them to get help to move into supported housing. We serve three meals a day to our 20 residents. Lunches (shift from 11:30am until 2pm) and dinners (shift from 5:30pm until 8pm) are hot meals prepared by our wonderful volunteers.
We are currently looking for volunteers to work on
Saturdays (Lunch and Dinner)
Sundays (Lunch and Dinner)
Volunteer in our Charity Shops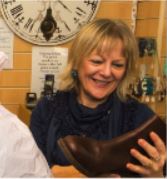 Julian House has six charity shops operating in Bath, Frome, Trowbridge, Chippenham and Devizes that needs lots of volunteers to join the team! We have different roles available; Tills, Sorting, Steamers, Back room tidy up, or specialist areas (such as books).
We are currently looking for volunteers in the following roles;
Shaftesbury Rd, Bath; Monday to Saturday – regular Volunteers required for the tills (any hours)
Walcot St, Bath; Till volunteers required Tuesday and Thursday mornings
Frome; Monday – Saturday – regular volunteers required
Chippenham; Monday, Wednesday & Thursday steamers and back room volunteers
Devizes; Tuesday, Wednesday, Friday, Saturday afternoons and Thursday
Volunteer at a Julian House Bike Workshop
Julian House Bike Workshops (Bath and Trowbridge) are social enterprises run by the Julian House charity.
We are currently looking for Volunteers for our E-Bike hire scheme in the Bath Bike Workshop:
Sundays (9am-5pm)
Sundays (Mornings)
We need volunteers to help us refurbish donated bikes:
Wednesday- AM & PM
Thursday- PM
Friday- PM
Saturday PM
Volunteer in the kitchen in our supported housing for people with an Autistic Spectrum Condition
We offer a 9-bed supported housing project in Bath for Adults with an Autistic Spectrum Condition. This service offers support to encourage and enable residents to move towards independent living by improving their life skills and working with other agencies to ensure the right package of care and support is in place, at the right level.
We are currently looking for volunteers to come and cook hot dinners for our residents:
Every Monday
Every other Wednesday
We'd be looking for a commitment of at least 2 hours, typically starting at 3.30pm to start preparing the meal.