From local events like the Big Sleep-Out, to our charity shops and Bike Workshops, to our Outreach Teams engaging with rough sleepers across the South West, volunteers can be found supporting our work everywhere we operate. Our volunteers do incredible work that helps us deliver the best possible service for people experiencing social exclusion.
Whether you're looking to learn new skills, keep busy, give something back or share your knowledge and abilities we are immensely grateful for every offer of volunteering. It's not just about donating your time. It's about getting involved and showing your support to vulnerable or at-risk people, and it's about going the extra mile to give them our best rather than making do.
We have lots of opportunities to get involved and are always interested to hear of new offers and ideas. If you don't see a role for you, use our enquiry form below to let us know what about your interests, skills and availability and we'll be in touch when we have opportunities that might be right for you!
Volunteer in the kitchen at our Manvers Street Hostel
Manvers Street Hostel provides more than just a bed to sleep in. Up to 20 residents can stay for sustained periods and get help to move into supported housing. We also provide emergency accommodation for free to vulnerable people.
We serve three meals a day to our 20 residents. Lunches and dinners are hot meals prepared by our wonderful volunteers. Come and join the team making nutritious and tasty meals for our residents!
Volunteer in our Charity Shops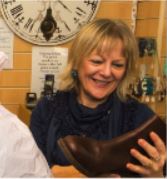 Julian House has six charity shops operating in Bath, Frome, Trowbridge, Chippenham and our new shop in Devizes that needs lots of volunteers to join the team! All our shops provide income to sustain and improve the support we provide to our clients.
Our shops recycle used or unwanted items that people have donated and make sure they go to a good home which reduces waste and helps the environment. They are also valuable community hubs that help raise awareness of our activities and the needs of our clients, and a place where people can find inexpensive items and people to chat to.
Volunteer at a Julian House Bike Workshop
Julian House Bike Workshops are social enterprises run by the Julian House charity. The workshops generate income through the refurbishment and sale of bikes and bike parts, and through services such as repair work delivered by teams of trained and professional bike mechanics. They also run Build-a-Bike workshops to enable people with a history of homelessness, offending, substance misuse or long-term employment to gain confidence and learn new skills.
We are recruiting volunteers in Bristol, Trowbridge and Bath for the roles listed below.
Join a Volunteer Fundraising Group
Become a member of a volunteer fundraising group! Meet new people and learn new skills by helping to organise new & exciting events. Raise vital funds and awareness to help the people we support.
You can apply below, or for more information contact jessica.gay@julianhouse.org.uk.
Volunteer to help improve the quality of our supported housing
Julian House provides a variety of accommodation options for those who need a helping hand to get their lives back on track. We believe that the accommodation we provide should be the best quality that we are able to provide – and we can always do better. You don't necessarily need special DIY skills, although practical skills like carpentry or painting & decorating can be very useful.
These activities are usually occasional and sometimes quite urgent. For example, we may need to house an individual or family at short notice, acquire accommodation and then make sure it has fresh paint and good quality furniture before our new clients move in.
If you're interested in helping out with something like this, or providing more long term support like helping out with gardening at one of our projects, please fill out the enquiry form below and we'll contact you when we need help!
Volunteer to help with administration
Volunteer
administrators can provide really valuable support for a variety of teams across Julian House. It's a great opportunity to gain administrative experience and makes a real difference to the work we do. You'll also have access to training & development opportunities and support to develop in the career of your choice.
Fill out our enquiry form to ask about available administrative volunteering opportunities.