Andrew (44) is currently in lockdown in a Julian House emergency accommodate site in Bath. Prior to this he had been trying to stay safe in the cramped environment of the charity's 20 bed emergency hostel on Manvers Street.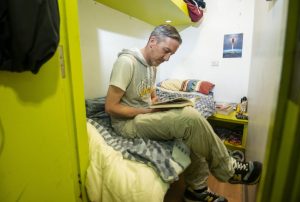 Although Julian House staff had been doing their best to make the hostel building as safe as possible – including staggered meal times and hand sanitiser available for everyone, it was very apparent that what worked in normal times wouldn't work now. It was for this reason that ten clients, including Andrew, were moved out to a temporary facility.
Looking back on how the pandemic has impacted his life, Andrew recalls when the seriousness of it all hit home – "We heard about it all on the news but it seemed very far away. We didn't take it too seriously. When the shops closed, the streets became empty and people started to die, that's when it became scary. Then the sanitiser arrived in the hostel. At that stage I was worried about the crowding there."
Andrew has been in Bath for 15 years. Prior to this he grew up in another part of the country. In many respects he had a very conventional upbringing and early life. Working in the family business for a good many years. He remembers well how things started to go wrong. A family row and starting to move in different circles was the backdrop to his introduction to heroin. Prior to this his only relationship with drugs was a bit of cannabis now and again.
He fully acknowledges that the bad choices that were made were his. "It was a way of fitting in with others. But the trouble is you have to take more heroin to get the hit you had last time – until it takes over your life."
Moving to Bath with a friend was a very deliberate effort by Andrew to break free from drug addiction and the destructive world that he was living in. Initially he had accommodation in the YMCA and then eventually he moved into a housing association flat. Life started to look good again. He got himself clean of drugs. He married and had two children.
But he and heroin and hadn't quite finished with each other. Things started to unravel and once again he found himself on the streets. Not having a settled home put a strain on his marriage. During this time he was a frequent client at Julian House. Thankfully his family stepped in to look after his children which meant that they were safe and had continuity in their lives.
There have been some false dawns for Andrew. Moving out of the Manvers Street hostel in 2019 and sharing a place with a mate was a bad move. It didn't work out.
He thinks he moved too soon. Looking back it would have been much better to go into a supported housing unit but this seemed like the best option for him at the time. "The support that I have had from Julian House and DHI has been brilliant. Now nearly a year on it's probably a good time for me to make that move but Coronavirus has got in the way. I have been clean for 7 months and I'm feeling good. I'm on a methadone script but even now when they've bent the rules so that you get a week's worth in one go, rather than the normal daily dose, I am not even tempted to gorge on it."
The lock down has been hard on Andrew and the other clients. Like most people across society it is restrictive, and boredom is an issue but he acknowledges that things could be much worse. And the future?
"I look forward to having my own place again. Leaving Methadone behind. Getting a job and going fishing again. I have stayed in touch with my kids through all of my troubles and it will be great to see more of them too."