Meal prep on a low income can be challenging, mixed with a lack of cooking skills, it can lead to people making expensive and fast food choices.
Within Julian House we run the Community Activities Network in Basingstoke which offers support through sessions on money management and cooking skills.
Michele who runs the group, explained how it works; It originally started with a budgeting course, held by the charity Money Lifeline and it became apparent that many individuals who were struggling with money management were also struggling to know how to shop to a budget. Without good planning shopping and cooking for one can end up a lot more per person than cooking for a family.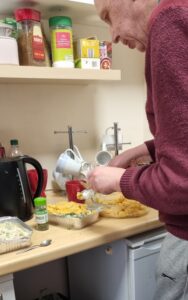 The support sessions take place, in a Covid safe environment in our office. Initially, we invited people who we were already supporting in other ways, however, since the pandemic we have adapted the way we work and now offer these sessions to anyone in the local community. They are one-to-one sessions and many of the people we see have lost their confidence because they haven't worked in a long time or are facing social isolation.
The sessions are client-led and vary depending on their experience. Some clients come with skills, some with none – living off of ready meals, which work out expensive. Recently, we did mince 3 ways, plain mince with potatoes and veg, a chilli and a ragu, all of which will last them for a week for under £10.00. The sessions not only help to give skills for life, but also build confidence and install a sense of achievement.
Rob has been attending the sessions after seeing our poster in a local store and approached us as he was lacking confidence with his cooking skills and wanted some help making bland recipes more exciting. Rob really enjoyed the sessions and became more confident. It also gave him a focus for the week.
In Rob's own words, he found the sessions 'Very helpful and very friendly'.
In the future, when social distancing allows we hope to offer these sessions as a small group, who after cooking the food, can enjoy it together, again, in a bid to tackle social isolation.
If you know someone who would like to learn budgeting and cooking skills with some great recipes put together by Michele, please call 01256 322791.