Eddie and the Street Cuts team have been cutting hair at the hostel for over 5 years, making a real difference to the spirits and confidence to the men and women we support. We caught up with Eddie after their first session back at the hostel, where Eddie explains how it felt to be back, as well as his motivation for volunteering so much of his time.
"Before the Covid pandemic, we were going to the hostel at least twice a month, myself and a few others from the Street's Cut team and I felt absolutely gutted that we couldn't go and help to make a difference to the men and women staying there. Lots of our homeless friends have been asking when we were going back to the hostel and I felt really helpless not being able go. As as soon as it was safe to do so, we booked a date to come back
It was amazing to be back at Julian House this week, and to catch up with many friends. We cut 8 people's hair yesterday and have seen as many as 17 in a day before Covid stopped us from being able to go.
Like many people, they hadn't had their hair cut for over a year, and their reactions were great to see. One guy had shoulder length hair and he wanted it cut really short on the sides and on top and straight away he looked 10 years younger. You could also see it in his eyes, more of a spark you know, you just felt like he was more lifted for getting his haircut.
It makes a real difference to their morale, they feel lifted and more confident in themselves, more self-respect. I think a lot of these men and women having have struggled to have a connexion especially in the last year and the lockdowns happened. I think on the inside they felt a lot more connected. Some of the ladies, whose hair we cut today, were a little bit on edge before, yet they felt so much more uplifted and connected again and happier after.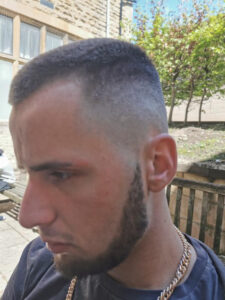 It all started when my colleague Phil from BA1 Hair took me to the soup kitchen to volunteer one evening. I was in recovery myself (5 years clean now) and it got us thinking that we could do and use our hairdressing skills to make a difference. We called the Julian House hostel and told them what we had in mind and they were delighted to hear from us. From there the idea of Street Cuts started. Helping the homeless community has become so important to me and is a big part of my own recovery. When you hear someone else's struggle and journey, I can empathise and can also talk about my own recovery. God willing it will be six years in July. It inspires me to do more and to see people you know whose lives I have hopefully touched, and to hopefully inspire them to turn their life around as well, to make that little step. Seeing them after doing a haircut, seeing their reaction as well as how it makes him feel it's just priceless – that's what really that's what drives me to do more. I also get to make new friends and it's just lovely you know being able to meet new people out in the street and hearing you know different backgrounds different storeys and be able to relate as well and have that connection.
In the future I would love to have a scheme where we can teach barbering to the homeless, young offenders, to anyone that needs a fresh start, to give someone a qualification, an NVQ, a helping hand, as Phil did for me. For now, we are just so happy to be able to be back cutting hair at the hostel. It's just brilliant to be back."