Classmates, Eli Chiles (10), Hal O'Hanlon (10) and Danny Gay (11) from Batheaston Church Primary School are wearing santa hats every day through the month of December to raise money to support people experiencing homelessness this winter.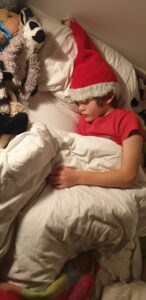 This is a challenge like no other and will see the trio wearing their hats 24/7, including at bedtime, while at school and even during football matches. They won't take the hats off until the 1st January. This festive feat seeks to raise funds for Julian House to help the charity provide essential shelter and care to those without a home during some of the coldest months of the year.
Eli's father Matthew said: "All three of the boys care greatly about the men and women experiencing homelessness in their hometown of Bath. They all appreciate just how lucky they are, especially at Christmas to have a roof over their heads and a safe place to call 'home'. It's wonderful that these young boys are learning to be grateful for what they have and to understand the hardships of others and importantly want to help those in need of support through Julian House."
This isn't the first that Eli and Danny have taken on this unique challenge. Last year the pair wore festive hats during December and raised an incredible £550 for Julian House. This year the trio are back and hoping to smash their target.
Matthew added: "They felt so proud of the money they raised last year (£550) and wanted to do it again, but with an even bigger target. This year they brought fellow classmate Hal in to join them. I know that Eli has even inspired some of his friends in other parts of the country to do the same this year. There is a little girl in Reading and a boy in London also raising money for charities by wearing their hats all month too. Perhaps this could become a regular event across the whole county. I can't imagine just how 'proud' that would make them!"
Jessica Gay, Senior Community and Events Fundraiser at Julian House said: "We're thrilled that Eli and Danny are back and have brought Hal in too to support us this year. It's such a creative challenge and I admire the young boys for taking it on once again to support very vulnerable men and women. It just shows how compassionate and thoughtful these young school friends are. Every pound they raise will help provide essential shelter and support for men, women and children without their own home this Christmas. Thank you."
To support the trio, donate here.