Whether it's nominating Julian House as your 'Charity of the Year', entering a team into one of our fundraising events, offering pro-bono support or volunteering at our projects, we develop bespoke mutually-beneficial partnerships with our corporate partners to fulfill their business, employee, and CSR needs, whilst helping us prevent homelessness in the South West.
Supporting your CSR objectives
We make it easy to develop a corporate social responsibility agenda that delivers successful outcomes for your business, employees and community.
How Julian House can support your business
Increase your revenue with more contract opportunities
CSR is now a requirement in many tender contracts submissions to both public and private projects. Together we can make this a very simple and meaningful solution for your business and your community – good for the environment, more involvement from your staff and supporting the charity's life changing work.
Demonstrate to stakeholders your ethical integrity and social value
Julian House supports marginalised individuals across the South West – particularly in the areas of homelessness, domestic abuse and criminal justice. There are many ways that your business can partner with the charity that will be mutually beneficial.
Offer your employees extra benefits' packages through our services
Julian House also operates two innovative social enterprise bike workshops in Bath and Trowbridge – selling refurbished and new bikes, professional servicing and e-bike hire. We can tailor special arrangements for servicing, repairs, bike hire and much more for your staff – a great addition to your existing staff benefits which also supports wider business goals.
Increase employee engagement, investment, and PR opportunities
Research has found that halo effects from a successful CSR agenda can help with a wide range of business issues; from employees aligning with business goals and commitments, to positive press and PR opportunities – a substantial added benefit, often without incurring any extra expenditure.
How Julian House works
We operate more than 40 different projects, accommodation sites and social enterprises across South West England. These include our homeless outreach services, domestic abuse refuge accommodation, a 20-bed emergency access hostel and various supported housing projects.
We also run multiple training programmes (including at our bike workshops in Bath and Trowbridge) to help people regain confidence, learn new transferable work skills, get back into education, volunteering and employment.
Every year, we support over 1,800 vulnerable individuals
We seek to build a just society where socially excluded people are supported and empowered to build sustainable, independent lives.
What services will Julian House offer?
Summary of partnering opportunities and benefit packages for you and your employees
Volunteering projects – short and long term
Discounted bike servicing and e-bike hire
Participation in events
Financial sponsorship of core activities or development projects
Customised packages – creating a specific partnering package to meet your needs
In return we can work with you to develop a financial support package for Julian House that shows a clear ROI and wider growth for your business.
To take the next step in your business development then talk to our CSR team.
Telephone: 01225 354656
Email: cathy.adcock@julianhouse.org.uk
Benefits of partnering with us
Becoming a corporate partner of Julian House offers a unique opportunity to engage both customers and colleagues, boost employee engagement, morale and team building skills and help Julian House provide life changing support and care to vulnerable men and women experiencing homelessness in the South West.
Corporate partners give to our charity in different ways. From supporting events to making us your Charity Partner, skills sharing and fundraising.
Motivate staff and encourage team building
Meet Corporate Social Responsibility objectives
Help support a recognised and well-established local charity
Reach new audiences and drive sales
Secure positive PR
Build brand profile
Stand out in a competitive market
What we can offer you:
A tailor-made plan to suit your organisation's Corporate Social Responsibility (CSR) programme with volunteering opportunities, skills transfers, and work placements for people who have experienced homelessness.
Boost your brand awareness across the South West. As well as being a well-respected, local charity, Julian House has a strong digital presence and social media following of engaged supporters that we can speak to about your company and successes.
Key members of the team will have the opportunity to visit some of our projects and see first-hand how your money is having a direct impact. We also hold regular Lunch and Learn sessions to engage and educate your staff about homelessness and the issues our clients face.
A wide range of challenge and fundraising events which your organisation, and your colleagues can participate in all year round. It is a great way to increase staff engagement, team building and skills development.
One to one support to help promote your own fundraising events; advice, a range of literature, pull-up banners, vinyl banners, collecting cans, contactless card readers, t-shirts and posters and flyers.
Dr Bike visits. A portable workshop that brings bicycle maintenance facilities to your organisation. The pop-up workshop is compact and fits into the Julian House Bike Workshop van along with a skilled mechanic. This efficient set-up provides comprehensive bicycle maintenance from a minimal footprint. The speedy and economic nature of Dr. Bike makes it ideal for one-day applications where you want to show your commitment to caring for cycling colleagues.
How to get involved
Our work wouldn't be possible without the generous support of our corporate partners, support which enables us to care for over 1,400 vulnerable and at-risk individuals every year. You can help us make the difference.
No matter what your size or business, there are options to suit every organisation:
Charity of The Year: as well as raising funds together, it's great for team building and getting everyone having some fun together both in, and outside the workplace. Whether you choose a charity by staff vote or a pitch process, we are happy to submit a proposal for the partnership and present to your charity committee.
Sponsor a Julian House event: Partnering Julian House in one of our high-profile events during the year provides a great platform to deliver a positive message, engage your colleagues, show your commitment to our cause and gain substantial marketing and PR benefits in the local community and amongst customers.
Employee fundraising: Challenge your colleagues to run their own fundraising events. From dress down days, bakes offs, raffles to golf tournaments – the possibilities are endless!
Offer matched funding: A great incentive for staff to raise money themselves is for the business to match it £ for £ thus doubling the amount raised. This creates a strong sense of team spirit and the company can also benefit from the Gift Aid scheme.
Promote Payroll Giving: Also known as Give As You Earn, is a way that employees can donate to Julian House direct from their salary. The company or pension-provider makes the donation before tax is calculated so the employee does not pay tax on the income they have chosen to donate.
Initiate a sales partnership: There can be huge benefits to the charity if a business were to include a small donation each time they make a sale – this strengthens customer engagement and increases loyalty to the business
Make a corporate donation: Apart from the philanthropic aspect to charitable giving, a limited company will pay less Corporation Tax if they donate money to Julian House.
Offer pro-bono support: We often need advice or support with specialist areas such as retail and marketing.
Gifts in kind: Do you have surplus goods, services or storage space that you could donate/lend to us? Your company's resources could be an invaluable way to support Julian House and help us deliver our vital work throughout the year. Julian House welcomes goods such as obsolete stock to sell in our shops or use as auction prizes, these items may not cost the business anything but could be hugely beneficial to us.
Volunteering: Julian House couldn't provide the help and support that it does, without our fantastic volunteers. We have over 400 volunteers across the organisation in a variety of roles that support the day to day running of projects, help us raise funds and give some of our clients important social contact. These roles range from catering at the emergency hostel, stripping bikes at the Bike Workshops, sales assistants at the charity shops, helping at our fundraising events and mentoring.
Royds Withy King chose Julian House as their charity of the year and supported us in a number of ways, from taking part in our events, fundraising within their office and volunteering in our services.
Contact us
Please get in touch if you want any more information about how you can partner with us or support us.
Email: cathy.adcock@julianhouse.org.uk
Phone: 01225 354656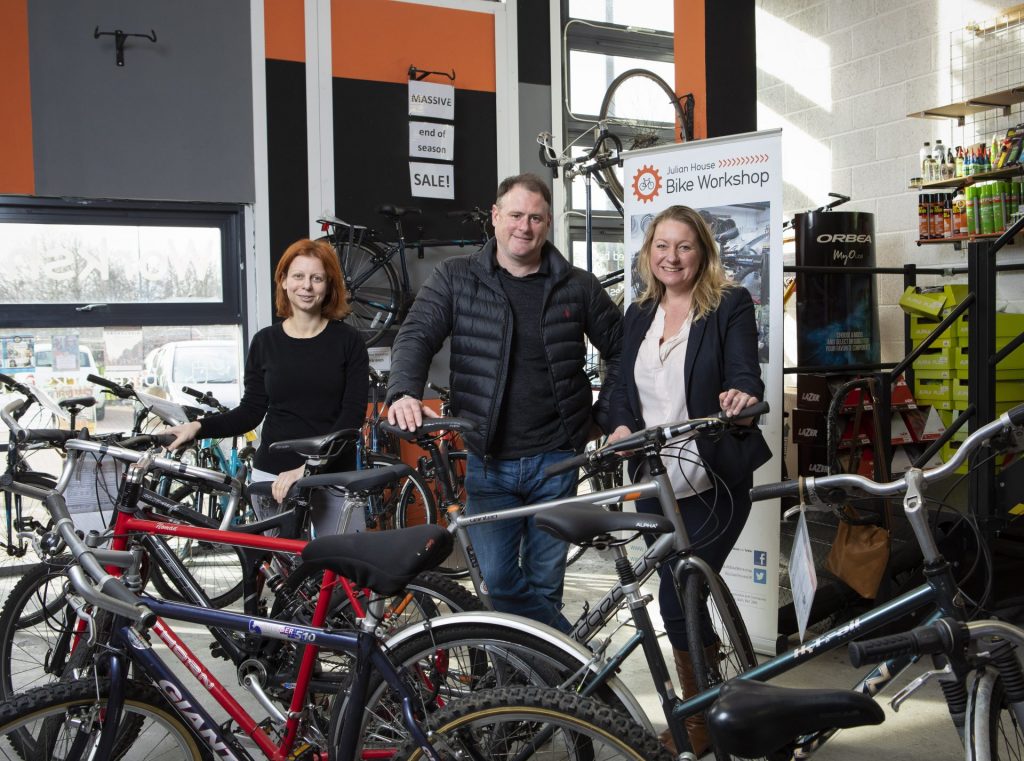 Thinking of planning an event?
We love to hear about what you have planned to support us; you can let us know here and we may be able to help you with further resources.